President Park becomes the first head of state to cut the tape to launch a submarine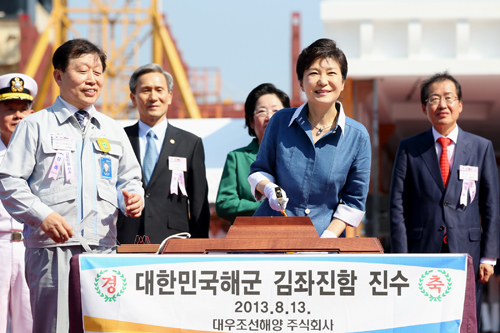 President Park became the first Korean head of state to cut the tape to launch a submarine.(photos: Cheong Wa Dae)
The "214-class" Kim Jwa-jin, a 1,800-ton, SS-II submarine, was launched with a ceremony at the Okpo shipyard of Daewoo Shipbuilding & Marine Engineering Co. (DSME) in Gyeongsangn-am-do on Aug. 13. The latest submarine is the fourth 214-class sub of the Korean Navy following the Sohn Won-il, the Jung Ji, and the Ahn Joong-keun submarine.
Among those on hand at the launching of the submarine, named after Kim Jwa-jin, who fought for independence from the Japanese colonial rule of Korea in the 1920s, were President Park Geun-hye; Minister of National Defense Kim Kwan-jin: Navy Chief of Staff Choi Yoon-hee; Rep. Yoo Seong-min, chairman of the National Assembly National Defense Committee; DSME President Ko Jae-ho; Rep. Kim Eul-dong, the grand daughter of the Korean independence fighter and concurrently chairperson of the Gen. Kim Jwa-jin Memorial Foundation; and TV entertainer Song Il-kook, a great-grandson of the late Korean hero.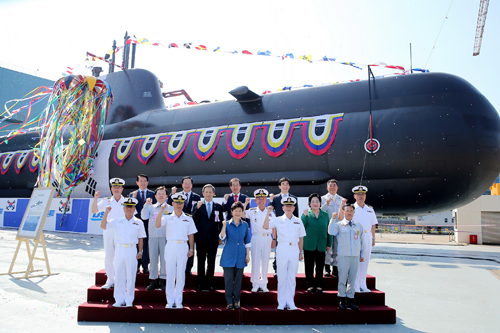 President Park Geun-hye,; Minister of National Defense Kim Kwan-jin,; Navy
Chief of Staff Choi Yoon-hee,; Rep. Yoo Seong-min, chairman of the National
Assembly National Defense Committee,; DSME President Ko Jae-ho,
and other dignitaries pose for a group photo while attending a ceremony to launch the
Kim Jwa-jin submarine at the OKpo shipyard of DSME in Gyeongsangnam-do on Aug. 13.
President Park became the first Korean head of state to cut the tape to launch a submarine. First ladies and wives of commanders have a tradition of cutting the tape during launching ceremonies.
President Park said in her commemorative address, "The Kim Jwa-jin submarine, being launched today, inherits the tradition of patriotic spirit and firm convictions for victory of Gen. Kim Jwa-jin, which led to victory at the Cheongsali Battle, the Korean independence forces' greatest-ever victory against the Japanese imperial army." Park said she will not tolerate any kind of attempts to undermine national interests and maritime sovereignty. The independence fighter was famed for leading his forces in the annihilation of 3,300 imperialist solders.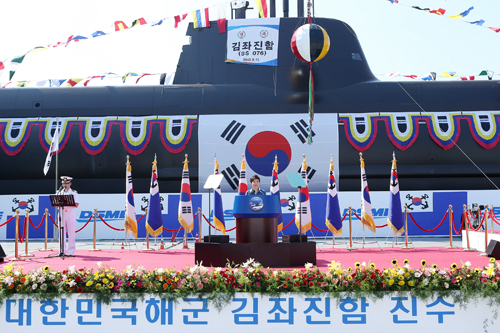 President Park also said in a meeting prior to the ceremony, "The Navy has developed a state-of-the art submarine with our own hands and technology, a feat which we thought we could never pull off. Furthermore, our Navy is safeguarding not only our cargo ships but also ships of other nations in the Gulf of Aden so that they can come and go without anxiety. Considering all these, it is highly likely that Korea would emerge as a maritime powerhouse. Korea's defense science and technology is developing fast and also being shipped overseas. In addition, the Ministry of Oceans and Fisheries has been newly established. I hope all these developments will serve as an opportunity to help muster our strength to join the ranks of top maritime countries."
The Kim Jwa-jin submarine, measuring 65.3 meters long and 6.3 meters wide, will be dubbed "a military base of cruise missiles on the move" because it is capable of making pinpoint strikes at enemies' key facilities.
The submarine can make a round trip to Hawaii from Korea without refueling because it is fitted with advanced weapons systems including the "air independent propulsion system" that enables the vessel to conduct underwater operations for two weeks without emerging.
The multi-purpose submarine, carrying 40 sailors, has a top speed of 37 kilometers per hour. The vessel, rated among the top diesel-fired submarines in the world, will be handed over to the Navy in the second half of next year after undergoing an operational evaluation. It is expected to be put into service in 2015 following nine months of test operations.
The Navy plans to raise the number of 214-class submarines in operation from four to eight by 2018. On top of these, the Navy also operates nine 1,200-ton 209-class submarines.
Currently, South Korea is outnumbered by North Korea with a fleet of some 70 submarines including some 20 1,800-ton Romeo-class submarines and about 40 325-ton Sangeo-class submarines, albeit mostly old and outmoded. The Navy plans to develop and secure nine 3,000-ton homegrown submarines by 2020.
The Navy has been beefing up its anti-submarine capabilities since March 2010 when a North Korean sub torpedoed the South Korean corvette Cheonan near the western sea border.