KDB Chmn. Hong Sees KDB Expanding IB Function
KDB also ready to increase loans to STX Pan Ocean and find ways to save STX Dalian with other creditors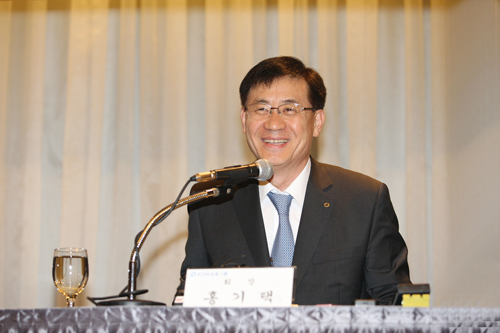 Chairman Hong Ky-ttack of KDB Financial Group.(Photo: KDB)
Chairman Hong Ky-ttack of KDB Financial Group and president of Korea Development Bank (KDB), said the merger of KDB and the Korea Finance Corp. (KFC) would create no problem in the financial structure of the merged entity as KDB would be the big brother in taking care of policy loans even if the merger is undertaken.
Chairman Hong made the remarks at a July 24 event to celebrate his first 100 days as KDB chairman held at the Lexington Hotel in Yeouido, Seoul. He also said KDB can play greater investment banking roles, especially with regard to the sale of Daewoo Securities now under KDB management.
The new chairman also hinted that KDB could provide more loans to STX Pan Ocean, which is now under court management, if needed. KDB will determine whether it will take over the shipping company when its financial conditions improve.
He also said KDB's financial conditions could deteriorate if merged with KFC, but since the KFC's assets were part of KDB before the spinoff, there shouldn't be any problems if the two financial entities merge.
He also said he would not be concerned about the redundancy of the two financial entities because KFC has been providing loans mostly to SMEs and some large firms, which won't come into conflict with KDB. He said his basic idea is that KFC should get away from making loans to public entities. Asked if that would mean that KFC would have to reduce the number of employees through the restructuring of its operational structure, he said he would have to see if and when the merger takes place.
When asked about the concern over possible conflict of interest between the Korea Exim Bank and KDB, Hong said he doesn't worry about the conflicts in the functions as KDB's overseas loans have been provided for private firms' projects.
Hong also said he can't say any thing about IPOs for some of the affiliates following the merger of KFC with KDB and it will be depend on how the affiliates fare in their business functions with those of KDB.
Hong said the sale of affiliates, especially Daewoo Securities, depends on how they can play the role of investment bank when dealing with policy loans and how the KDB Law would change. "KDB needs to deal with investment banking to develop financial products. Now that I am with KDB, I feel KDB should play a bigger role in investment banking rather than Daewoo Securities," he said.
"In the area of taking over stocks, it is better for KDB to directly take over a larger share of the transactions than Daewoo Securities, although the securities firm has provided a lot of help so far to KDB in the area of investment banking," the new chairman said.
Hong also denied rumors that he will reduce the scale of retail banking for KDB, which his predecessor had focused on its expansion, but he said he will make some adjustments to deposit interest rates, which have been said to be too high. "When you look at the provision of loan funds, KDB bonds and retail deposit funds are 50/50 in securing funds, so I will touch them up depending on the ratio of loan funds secured by the two sides," he said. He also said he has no intention to remove the KDB Direct financial products created when former chairman Kang was heading the financial group.
As for STX Shipbuilding, he said, an MOU will soon be signed on an agreement to revive the company with the top executives and majority shareholders and the revival plan will be implemented stage by stage. In the normalization stage, the reduction of the company's capital is inevitable, so chairman Kang will lose his majority stake in the shipbuilding company and the role he will play in the revival process will depend on creditors. But, he said, his professional knowledge would be useful and he has some role to play in the normalization process. Hong said STX Dalien in China has suspended its operations due to a shortage of operational funds and owes 800 billion yuan in loans from Chinese banks on guarantees by its domestic affiliates. Hong said KDB and other domestic creditors will meet regarding the matter.