The outdoor wear producer s brand value rises all over the world, competing with global rivals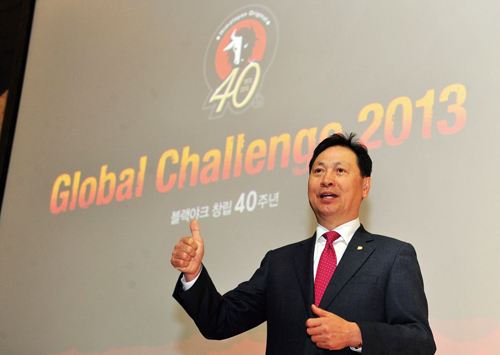 Chairman Kang Tae-son of Black Yak delvers his congratulatory
speech at a ceremony for the fashion brand's 40th anniversary on
March 4, promising the Korean fashion brand to rank among the top
five fashion brands in the world by 2015 and the top brand in the world in 2020.
Chairman Kang Tae-son of Black Yak, a Korean outdoor sportswear maker, said the company is slated to open stores in four countries this year °™ Turkey, Switzerland, Austria, and Germany °™ and do the same next year in France, Spain, the Czech Republic, Great Britain, and Russia, as they are many requests to set up outlets to sell Black Yak outdoor sportswear in those countries.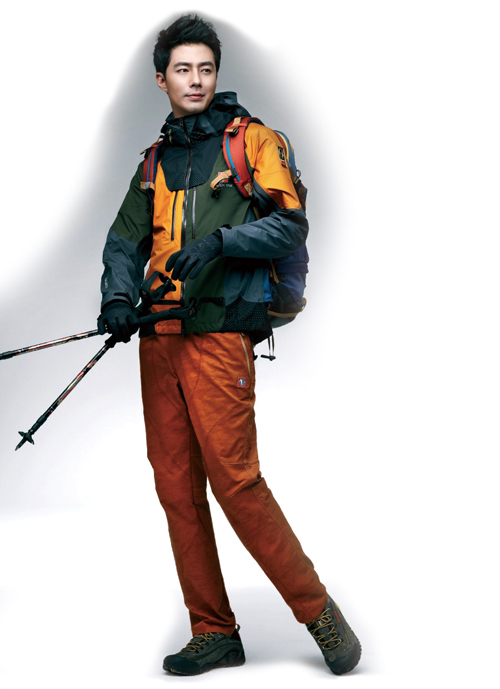 "Black Yak will be a top outdoor wear brand in Europe, the home of outdoor wear in the world," boasted the chairman as the Korean outdoor brand company celebrated 40 years in business on March 4.
Black Yak displayed its outdoor products at the ISPO 2013, the largest outdoor wear exhibition in the world in Munich, Germany, for the second straight year. The brand's windbreaker (B1XG1) won the top Asia brand award this year. Chairman Kang said by the latter half of next year, Black Yak will have 30 outlets for its various types of outdoor wear in Europe, a foundation for the brand to rank in the top five outdoor wear brands in the world by 2015 and the top brand by 2020.
Black Yak will be the first brand that sells its own directly made brand of outdoor wear, not OEM types, in Europe. When asked why Black Yak would want to sell its products in Europe, when Asia has a large market for such products, the chairman said, "The company's dream is to sell its brand name goods in the region where they are being looked down on and compete with European brand goods and win in the end. If you want to just make money, you wouldn't have to go to Europe, but stay in Asia and you'll just be an Asian brand."
"There are two types of business people: those who are trying to sell products in a market that doesn't yet exist, who are truly business people, and those who want to sell products they have in the markets with a lot of demand just to make money, who are just merchants, not entrepreneurs," Kang said.
Black Yak wants to sell its outdoor wear as a Korean brand in Europe where Korean outdoor products are looked down on by competing with European brands and winning.
The Korean outdoor wear maker aims to sell 710 billion won worth of Black Yak brand products this year, 630 billion won at home and 80 billion won overseas. It also wants to sell 765 billion won worth of other brands, including Mountia and Marmot.
Kang said he expects Black Yak to be the top outdoor wear brand in terms of sales in Korea this year, which, he thinks, is a natural result reflecting the company's level of efforts. Customers will think of Black Yak outdoor wear not only as outdoor wears for hiking, but also safety equipment and part of Korean culture, a brand with a special value, Kang emphasized.
This year, the company will intensify its marketing. In China this year, the company plans to sell 100 billion won worth of its outdoor wear from its 267 sales outlets, up from 55 billion won last year. In the mid-term, the company expects to sell 1.4 trillion won worth of its products at home by 2015, 100 billion won in Europe, and 500 billion won in China, to bring total annual sales revenue to 2 trillion won in 2015 and 4 trillion won in 2020 to be number one in the outdoor wear production industry in Korea.
Customers are buying not only Black Yak outdoor wears, but also the culture in those products' designs showing Nepalese culture and sensitivity, and the challenging spirit shown in their colors, Kang stressed.
When he goes overseas with employees of the company, he takes them to expositions, art museums, and sculpture parks in particular, so that they can use part of the images in their designs on Black Yak products, Kang said. European customers are taken by the use of black and yellow in Black Yak's products.