.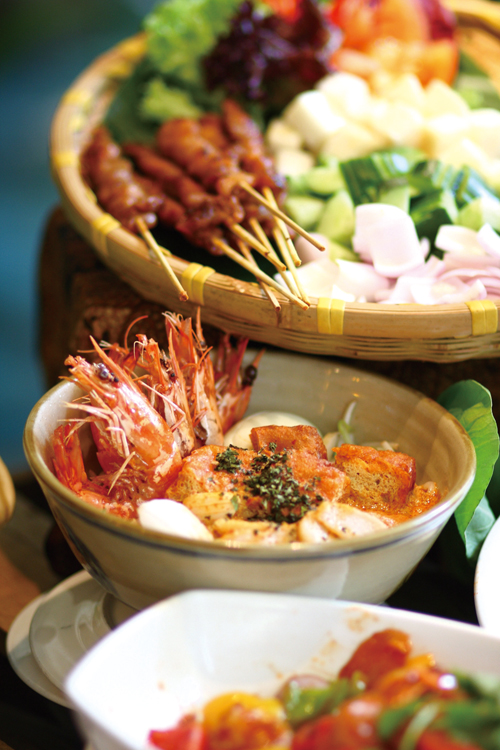 Millennium Seoul Hilton's international buffet restaurant, Orangerie, is excited to sing the praises of Singaporean cuisine as it welcomes a guest chef from Singapore to its kitchen! The chef will introduce a variety of authentic and exciting dishes to Orangerie's already bountiful buffet during this August promotion.
Some of the dishes from the Asian island nation will include Chili Crab, Braised Duck with Superior Soya Sauce and the popular Chicken Rice with all the tasty condiments, and much more. Singapore is world renowned for its vibrant and exciting cuisine, which draws influences from its diverse surrounding areas.
The Orangerie lunch buffet is priced at KW64,000 for adults and KW38,400 for children aged 12 and under. The Orangerie dinner buffet is priced at KW69,000 for adults and KW41,400 for children aged twelve and under. Tax and service charge are already included in these prices.
Orangerie's international buffet offers a vast array of international fare in a cheerful and open environment. Specialty stations feature made-to-order pasta, Korean specialties, a carvery station and more. Private dining rooms are available.
For reservations or enquiries, please call Orangerie at (02) 317-3143.
Millennium Seoul Hilton's Summer Escape
Millennium Seoul Hilton is offering Seoul urbanites an opportunity to enjoy a summer getaway without leaving the city! Take this opportunity for a summer respite in the city! The specially-priced room packages are available from June 1st through to August 31st.
This is a great opportunity to enjoy Millennium Seoul Hilton's comfortable and luxurious guest rooms at a discounted price. The packages include:
Deluxe Room (KW190,000++)
Deluxe room accommodations
For an additional KW40,000++, guests can enjoy breakfast for two at Cilantro.
Premium Room (KW210,000++)
Deluxe accommodations
For an additional KW40,000++, guests can enjoy breakfast for two at Cilantro.
Executive Room (KW280,000++)
Executive Floor accommodations
Guests have the option of choosing breakfast for two at Cilantro or Executive Lounge access.
Please note that from June 1st to June 21st, the above packages are priced at KW220,000++, KW240,000++, and KW310,000++ respectively.
Guests will receive complimentary High Speed Internet Access as well as two glasses of draft beef and a snack at Oak Room (on Sundays, this perk is available at Palm Court). All guests can enjoy complimentary access to the swimming pool and fitness center located on the 3rd floor.
Premium and Executive package guests will receive a gift of Ozeque Melting Cleanser. Extra beds may be acquired at a rate of KW50,000++.
Located at the foot of Mount Namsan, Millennium Seoul Hilton has spectacular views of both the city and the scenic mountain. The Summer Room Packages are the perfect opportunity to take a break from the hot summer and pamper yourself in comfort and luxury.
This offer is only available to Korean citizens or foreigners who have an alien registration card. The packages are based on double occupancy.
For reservations or enquiries, please call (02) 317-3000.