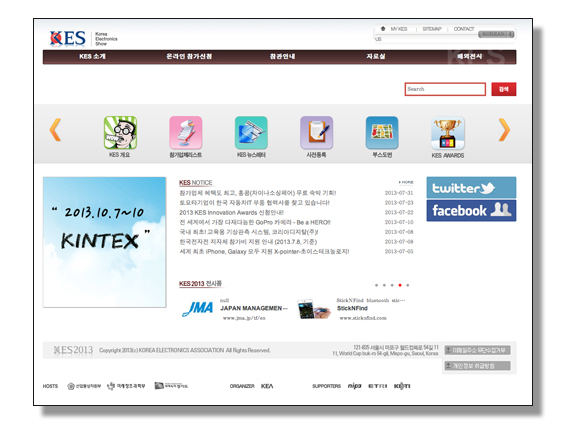 Home Page for Korea Electronics Association (KEA) and the National IT Industry Promotion Agency (NIPA)
The Korea Electronics Association (KEA) and the National IT Industry Promotion Agency (NIPA) announced that the Korea Electronics Show 2013 (KES 2013), the 14th holding of the nation's largest electronics and IT business fair, will be held at KINTEX in Ilsan, north of Seoul, from Oct. 7-10.
KES 2013 will be jointly sponsored by the Ministry of Trade, Industry and Energy, which covers electronics, automobiles, medical, robot and other key industries, and the Ministry of Science, ICT and Future Planning, which oversees science & technology and ICT.
KES 2013, which will display a wide range of advanced electronics and ICT products at an exhibition space of 53,541 sq. meters, the largest-ever one, will coincide with the Creative Future Forum, a large-scale ICT conference, and the IT Industry Outlook Conference 2014.
About 3,000 foreign buyers from 20 countries, including China, Asia's biggest market, and other emerging markets such as Russia and Middle Eastern countries, will likely participate in KES 2013, marking its 14th exhibition, simultaneously with the 15th semiconductor fair, iSEDEX, and the 13th information display fair, iMiD. Some 800 exhibitors from 22 countries are expected to participate.
KES 2013 will focus on convergence, which enables traditional industries to benefit from expanding their range of applications to interact with the IT products and solutions of other industries such as the automobile, construction, apparel, and mobile device industries. The fair will cover various themes such as Green IT, 3D, broadcasting, medical devices, smart grid technology, and automobile electronics.
Korean exhibitors, including Samsung Electronics, LG Electronics, Samsung Electro-Mechanics, LG Innotek, Korea Digital, and Choice Technology, as well as foreign concerns such as Olympus, Sanyo Denki, ST Microelectronics, and Coherent, will display their advanced mainstay items.
Spectators will be also given the opportunity to get a glimpse at the present and future of the Korean and foreign ICT markets. The Creative Future Forum will bring together keynote speakers who will talk about the ICT industry's future and roles. Experts in major fields will lecture under the theme of "People's happiness through the realization of the creative economy and the roles of ICT." The IT Industry Outlook Conference 2014 will give an insight into the 2014 ICT and software industries and technology trends and present future development strategies.
KES always there with the history of IT in Korea
As technology develops throughout the world, Korean electronics products have transformed their shapes from simple product, like vacuum tube radios, to advanced products, like mobile phones, IPTVs, and semiconductors. The significant development of technology and increased demands for Korean products throughout the world have resulted in the rapid increase in the production of electronics products. Korean electronics are now ranked fourth in the world in terms of production. The KES has always been there throughout the 51-year history of the Korean electronics industry and the most important threshold to the international markets.
Since 2008, KES has founded a complete product portfolio by merging two areas -- semiconductor and supply sectors. The portfolio enables buyers to acquire as much information about the up and/or downstream supply chain at a glance.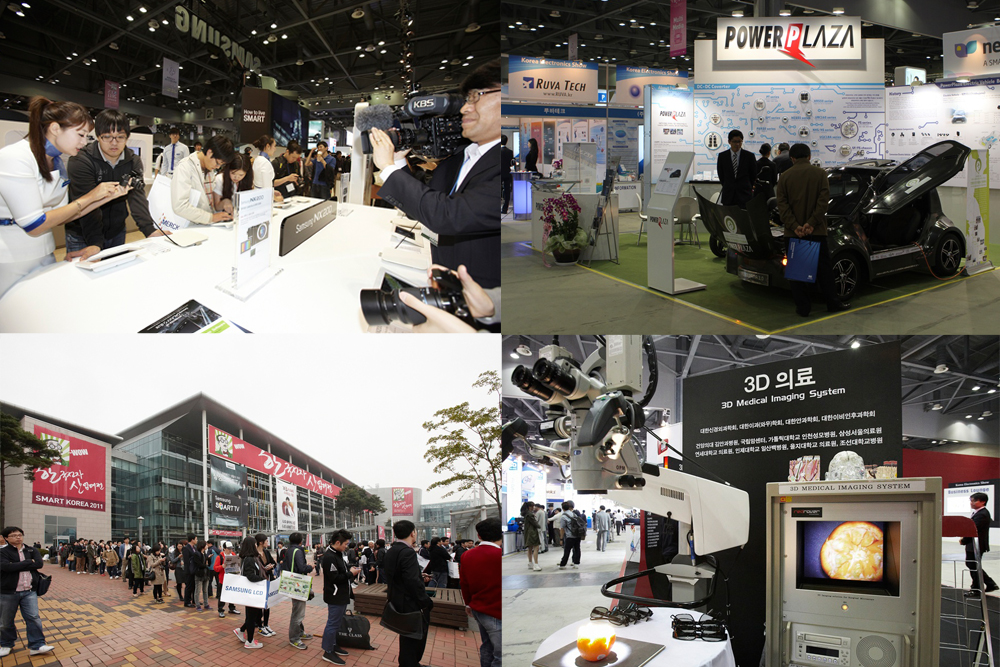 In 2013, over 700 companies from 20 countries will participate in the Korea Electronics Show. The participants will present their major products, such as cell phones, multimedia, semiconductors, and displays. Also, different kinds of convergence solutions will be presented, such as digital kits and digital hospitals, wearable computing, and Green IT. Those presentations about convergence solutions will give CEOs insights in future trends of advanced technologies and the global markets.