.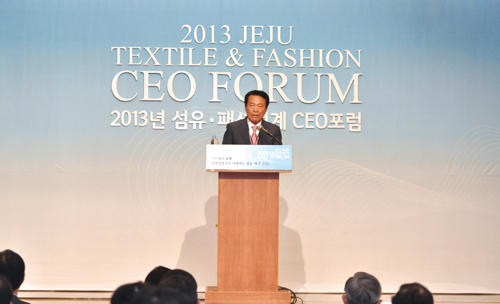 KOFOTI Chairman Roh Hee-chan delivers his opening speech at the 2013
Textile & Fashion CEO Forum. (Photos: KOFOTI)
About 400 Korean textile and fashion company CEOs and business leaders descended on Jeju Island on June 12 to participate in the 2013 Textile & Fashion CEO Forum.
The three-day forum was hosted by KOFOTI and was designed to shed an insight into the present and future of the Korean textile & fashion industry under the banner of convergence of streams and shared growth in a future-oriented industry.
KOFOTI Chairman Roh Hee-chan said in his opening speech, "Each stream, ranging from cotton spinning to chemical fiber, fabric, dyeing, garment, and fashion, should promote harmony and co-prosperity through mutual understanding and collaboration between large- and small-sized companies as a community bound together by a common goal. So let's get back to the grind with the goal of becoming a global top-four textile powerhouse."
Among the speakers of the forum were Toray Chairman Sadayuki Sakakibara, who spoke about innovative strategies for a new era of environment, raw materials, and energy; Deputy Minister Lee Kwan-sub, of the Ministry of Trade, Industry and Energy, who lectured on the direction of industry policies; Millennium Symphony Orchestra conductor Suh Hee-tae who spoke about maestro leadership; and designer Lee Sang-bong.
The forum also coincided with side events such as a golf competition hosted by the KOFOTI chairman, trekking, and other leisure activities.
The 2013 Textile & Fashion CEO Forum, the 11th such event, takes place every year with the goal of sharing information, networking among textile & fashion CEOs and business leaders, and promoting cooperation and exchanges among streams.