Korean builder jointly clinches project worth over $1 bln to build oil refinery in Izmir, Turkey with capacity of 210,000 barrels per day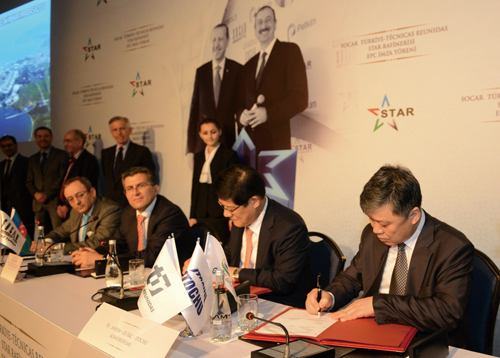 Turkish and officials of the international consortium including GS E&C, sign an agreement to
build an oil refinery and support facilities in Izmir, Turkey, with the daily capacity to refine
210,000 bpd on May 21(Photo: GS E&C)
GS Engineering & Construction has won a refinery project in Turkey. The company said on May 21 it has successfully landed a deal to build a refinery and other related facilities jointly with Tecnicas Reunidas, S.A. of Spain, Socar & Turcas Aegean Rafineri of Turkey, Saipem S.p.A. of Italy, and Itochu Corp. of Japan. The total value of the refinery project is $3.456 billion, of which GS E&C will be responsible for 30 percent of it.
The project calls for building an oil refinery to process a daily average of 210,000 barrels in Izmir, Turkey's third largest city, 610 kilometers south of Istanbul. GS E&C will be responsible for building facilities for naphtha and the kerosene desulfurization process and other amenities. The total time for the construction will be 51 months, including six months of pilot production.
A GS E&C official said, "The latest achievement was the result of the successful completion of three previous projects, which were the Izmir DHP project, the Izmit DHRP project, and the Kirikkale DHP-CCR project. It is more meaningful because it was the first project we have won since the establishment of our Turkish office last year."
GS E&C has also established GS Americas in Houston, Texas, to oversee its operations in the Americas. In addition to the Houston operation, GS Americas will supervise satellite branches in Calgary, Canada, and Bogota, Colombia.
Woo Sang-Ryong, President and Chief Global Officer of GS E&C, said, "GS Americas promotes growth based on our core strengths of great innovation, great challenge, and great partnership. We hope not only to develop new business, but to strengthen our endeavors in reducing environmental pressures by establishing low-carbon, green management systems and developing programs to contribute to society."
GS Americas provides complete EPC services in the hydrocarbons, power, infrastructure, and environmental sectors. With emerging shale gas and oil sands markets coupled with a growing population, the Americas creates new opportunities for partnership and operations. GS Inima, a water treatment company located in Brazil, exemplifies environment-conscious practices. It utilizes desalination through reverse osmosis to improve wastewater treatment and energy conversion.
Gerry Turner, Chief Operating Officer of the Americas office, said, "The establishment of the Houston office demonstrates the pioneering spirit of GS E&C as we venture to explore new markets opening in Canada, the United States, and Latin America. We look forward to developing partnerships in North America to bring forth innovative and sustainable change."
Currently, GS Americas is providing EPC for the Black Gold Oil Sands project in Alberta, Canada, to produce 10,000 bpd of crude oil.
GS E&C is also gaining a strong foothold in Vietnam, a country it has chosen as a strategic bridgehead to expand its business globally.
The construction arm of GS Group, one of Korea's leading conglomerates, chose the Southeast Asian country last year as a crucial base from which to expand in the region that it believes reflects changes in the market. The decision follows its successes there that began two years ago.
"Vietnam represents for us GS E&C's diversification of market and proof that our civil engineering skills, which for a long time had been considered less advanced than our construction skills, meet the global standard," said a company official.
In October 2011, GS E&C CEO Huh Myung-soo visited Vietnam to meet with senior government officials and for the groundbreaking ceremony for the Binh Loi Bridge on the Tan Son Nhat – Binh Loi outer ring road (TBO Road) in Hoh Chi Minh City.