Hyundai E&C To Boost Overseas Earnings Share to 75 Pct.
The company continues to expand its market to non-Middle East regions, like South and Central America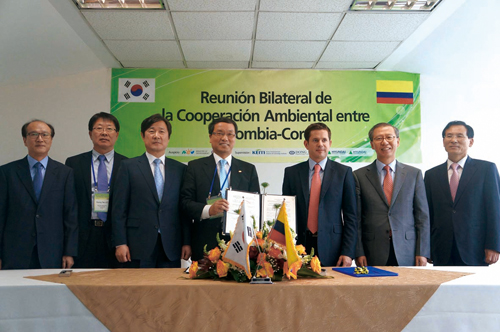 Officials of Hyundai E&C and a power company in Columbia pose for a photo session after
signing an agreement for the Korean builder and its consortium to construct a waste water
treatment plant in Medellin, Columbia, in February, 2012 in Bogota, Columbia.(photo:Hyundai E&C)
President Jung Soo-hyun of Hyundai Engineering and Construction Co. said the biggest builder in Korea has set a target to secure $11 billion worth of construction projects overseas this year, bringing the company's accumulated overseas projects to $100 billion.
The target doesn't look easy this year as competition remains stiff and European construction firms with advanced technologies are also securing more construction projects overseas, especially in the Middle East, a region traditionally dominated by Korean builders.
Hyundai E&C has been broadening its global operations of late, out of the Middle East region and Southeast Asia to South and Central America, already undertaking a number of large projects in Venezuela, Columbia, Brazil, Ecuador, and other countries. The company opened a branch office in Bogota, Columbia, in 2010, followed by another branch office in Caracas, Venezuela, to launch its operation in the region early, hoping to beat the moves of most foreign builders not yet in the region.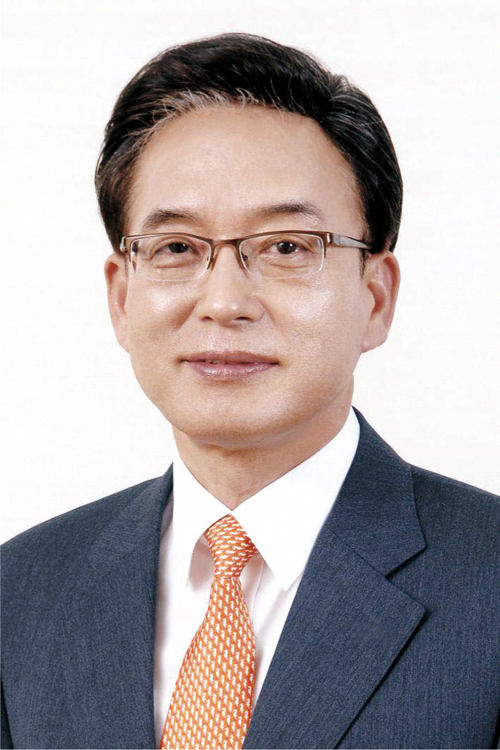 President Jung Soo-hyun of Hyundai E&C.
The company was awarded a project for the construction of a wastewater treatment plant in Medellin City, Columbia, in February 2012 worth $350 million jointly with other builders. In June of last year, the company received an order from PDVSA, a government-run oil company, involving the expansion of an oil refinery and equipment repair in Puerto la Cruz, Venezuela, worth $2.995 billion. The company got good news from Uruguay, too, at the end of last year, when the government awarded its consortium the project to build a thermal power plant in Punta del Tigre worth $630 million, with Hyundai's share amounting to $530 million.
Last year, the company won $10.5 billion worth of projects from overseas with its superb technologies paving the way. Last November, the company won a project to build a causeway worth $2 billion in Kuwait to bring the total accumulation of overseas construction projects won by Hyundai E&C to $90 billion, equivalent to 17 percent of the total $530 billion worth of overseas projects won by Korean builders.
Hyundai has been now working to change its marketing strategy to tailor its projects for the needs of those Central and South American countries. In order to draw up such marketing plans, it will strengthen its cooperation with its affiliates including Hyundai Engineering and Hyundai Integrated Design, in addition to building partnerships with top companies in advanced nations to train competitive engineers.
Last November, the company made an advance into Uruguay for the first time, which shows why 61 percent of Korean builders' overseas projects came from non-Middle East nations.
This year, too, President Jung said the company should strengthen its local marketing efforts by setting up branch offices in countries outside the Middle East and hiring people who are fluent in the local languages.
Jung said Hyundai plans to focus on projects related to water treatment, iron, and steel production plants, green-smart buildings, and oil sands exploration as next-generation growth engines. The company will move first to undertake such projects as privately-invested thermal power plants, LNG-related ones, natural resources exploration infrastructure projects, and overseas real estate development. The company plans to secure a competitive edge first in such areas as water treatment facilities and environmentally-friendly structures, all generally in the green-growth areas, Jung said.
All of the plans and moves overseas are part of the company's plan to boost its position in the world construction industry as a top-level builder, Jung said.