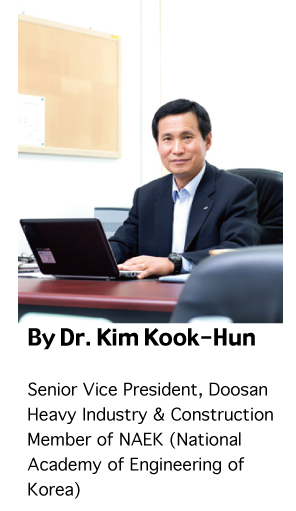 Korea's first nuclear power plant (NPP), Kori unit 1, began commercial operation in 1978 and Doosan Heavy Industry & Construction started manufacturing the nuclear steam supply system (NSSS) main facility including the reactor vessel and steam generator beginning with Yonggwang Nuclear Power (YGN )units 3&4. However, the I&C system had been supplied by Westinghouse, an American company, from the beginning until 2005 (Shin Kori units 3&4). After 31 years of operation of the first NPP, the Korean MMIS, the digital instrumentation and control system functioning the same as the brain and nerve system in the human body, was selected for the Shin Ulchin NPP units 1&2 for the first time. Korea's efforts, represented by Doosan, to develop and supply the MMIS for NPPs is summarized below.
I. MMIS starting point: KNICS project launching
Korea's MMIS development started in April 2001. The Ministry of Science & Technology launched the Korea Nuclear I&C System (KNICS) project led by the KNICS R&D Center, directed by Kim Kook-hun of the Korea Electro-technology Research Institute (KERI). Doosan, KAERI, KERI, POSCON, Woori Technology, and Woojin were in charge of integration or development of subsystems including the safety system, rod control system, Q-class PLC, DCS, and RSPT for the seven year R&D period. During this stage, topical reports for licensing, prototypes for EQ and performance testing were developed. During the R&D period, young engineers, researchers, and professors devoted their lives to developing the digital I&C systems for the APR-1400.
II. MMIS integration and testing period: NuTech 2012 project launch
In 2007, the Ministry of Knowledge Economy (MKE) launched the NuTech 2012 program for 100 percent NPP technology independence. This program included an MMIS made for total MMIS integration and testing and one special topic, the Reactor Core Protection System (RCOPS). The whole scope of this program, including the implementation of 15 subsystems, simulation tests using a digital NPP simulator, and RCOPS development, was led by Doosan. During the period, many potential Korean NPP engineers from companies such as KEPCO-ENC as well as universities tested and evaluated the newly developed MMIS. Also, the Korean regulatory body Korea Institute of Nuclear Science (KINS) reviewed four key reports and issued four relevant Safety Evaluation Reports. However, more than three years of thorough testing, reviewing, and verifying by third parties of the newly developed MMIS made Doosan and vendors worry about their key technologies being out in the open. As the result of three years of work, many of the key technologies became well known to all of the reviewers.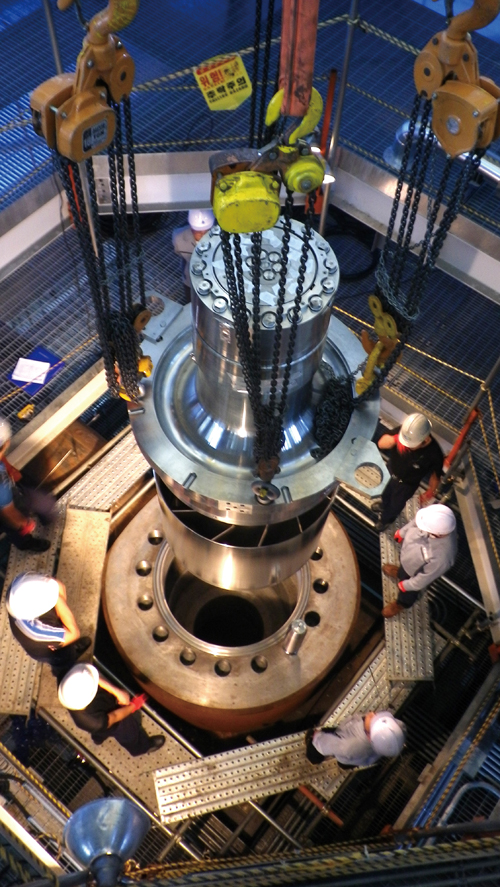 The reactor coolant pump,
developed by Doosan Heavy Industry & Construction
III. Independent Engineering Review of I&C System (IERICS) by IAEA
Even after the Shin Ulchin units 1&2 contract, all the parties involved as well as Doosan's top management were very careful to ensure the success of Doosan's MMIS project. They asked international experts to examine it after the Korean experts' review and audit. At this time, the IAEA provided the IERICS program for effectively examining and reviewing Doosan's MMIS. During the IERICS program, the IAEA and related experts from six countries reviewed Doosan's MMIS to see whether it coincided with the IAEA's safety guidelines. Finally, Doosan's MMIS received eight good practices certified including the integrated system test, a thorough third party review, and two out of three logic adopted in the BOP system design.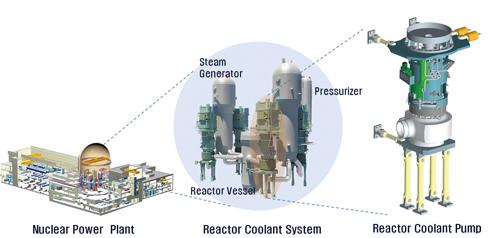 IV. Current and Future
Doosan was contracted to supply the MMIS for NPPs since 2009 and believe their MMIS is the best of the existing digital I&C systems. It would be impossible without the following organizations' support: The Korean government's support through research projects; KHNP's thorough reviewing from construction to the operation and maintenance stage; KEPCO-ENC's design analysis; and Doosan and its developer groups' passion and scientific/engineering efforts. Doosan's developer group includes KAERI for the safety system's basic design; POSCON (now PONUTECH) for safety class programmable logic controller (PLC); Woori-Tech for non-safety distributed control system (DCS); KERI for the control rod control system; and Woojin for reed switch position transducer (RSPT). They all are members of one consortium and have hundreds of young excellent digital I&C engineers eager to solve any problems that may exist. This is another strong point of the Korean MMIS consortium compared with those in other countries.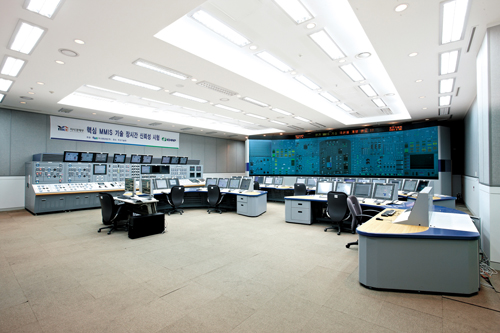 The man-machine interface system (MMIS), developed by
Doosan Heavy Industry & Construction, is test-operated.
Now Doosan is looking forward to succeeding projects not only from domestic utilities, but also foreign utilities to maximize customers' safety and profits through proven MMIS technology. Doosan's MMIS is very user-friendly, easy to understand, transparent to audits, and guarantees maximum reliability, availability, maintainability, and safety.